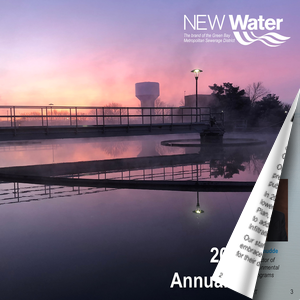 The 2021 Annual Report showcases our accomplishments, highlights, and challenges throughout the year to ultimately protect our most valuable resource, water. Click the image to read the Annual Report!
---
Facility Plan
As part of community outreach efforts, NEW Water held public information meetings to explain the comprehensive look at the process needs with a Facility Plan. A Facility Plan addresses condition, performance and capacity gaps, develops infrastructure improvement packages, and evaluates project prioritization and cost impacts.
---
100% Permit Compliance!
The National Association of Clean Water Agencies (NACWA) has lauded NEW Water for achieving 100% permit compliance for the Green Bay Facility for 19 consecutive years, and the De Pere Facility for 10 consecutive years.
---
NEW Water in the News:
'Newsmaker Sunday' Features NEW Water
NEW Water Executive Director Tom Sigmund appeared on WFRV's Newsmaker Sunday with Tom Zalaski to talk about the mission, vision, and essential services provided to our community. See more here >>
The Press Times Features NEW Water's Facility Plan
NEW Water was featured for planning for the future with a Facility Plan, so the community can continue to flush the toilet, wash the dishes, and run their businesses whenever they want. See more here >>
Treatment Plant Operator (TPO) Magazine Features NEW Water's Watershed Work
NEW Water was highlighted for a collaborative approach to help protect our most valuable resource, water, with Adaptive Management. See more here >>
Enhancing Green Infrastructure
Thanks to the support from a U.S. Forest Service grant to NEW Water, a total of 2,196 trees have been planted around Brown County in the last year, including 54 trees at NEW Water's De Pere and Green Bay Facilities.
Girl Scouts Camp - Wonders of Water Journey Badge
In April, NEW Water partnered with the University of Wisconsin - Green Bay to help Girl Scouts of the Northwestern Great Lakes from around Wisconsin to earn their "Wonders of Water" badge! The day was full of fun hands-on and take home activities to educate about our precious waters and what they can do to help protect our waterways.
---
What's New at NEW Water
NEW Water held an update meeting on June 16, with topics including Adaptive Management, Local Limits, and Capital Charge Study.
NEW Water held Capital Charge Study Workshops on April 21 and June 9, 2022.