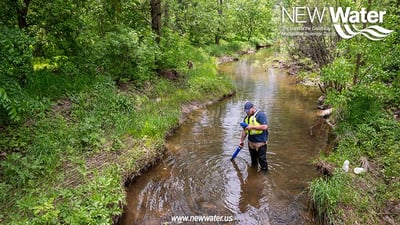 June 2022 - Treatment Plant Operator (TPO) Magazine featured NEW Water, the brand of the Green Bay Metropolitan Sewerage District, for a collaborative approach to help protect our most valuable resource, water with Adaptive Management.
Excerpts from TPO Magazine story are found below. To read their full story, please visit:
NEW Water, the brand of the Green Bay Metropolitan Sewerage District, treats wastewater for 15 municipal customers and serves 236,000 residents in a 285-square-mile area. The utility treats 33 mgd at its Green Bay facility and 8 mgd at a plant in neighboring De Pere.
In 2014 the DNR mandated different requirements that limited NEW Water's effluent total phosphorus and suspended solids. The utility had five years to determine its path forward before the limits went into effect. NEW Water now has four permit cycles (five years per cycle) to meet phosphorus limits of 0.075 mg/L in two impaired subwatersheds of the lower Fox River.
The NEW Water team evaluated several ideas to choose a phosphorus reduction plan that would be the most cost-effective for ratepayers and involve the community. To that end, NEW Water started a pilot project to evaluate adaptive management as an alternative compliance option offered by the DNR.
Based on the success of the pilot project, the utility launched the NEW Watershed Program to go full scale into watershed work. The plan requires the district to work with rural and urban landowners to help them reduce releases of phosphorus and suspended solids to the impaired waterways. The district funds the program, along with grants and cost share through the Natural Resource Conservation Service.
Because they had a good working relationship with Outagamie and Brown counties, two counties in their service area, the utility reached out to the landowners there, which included many farmers. It also included the Oneida Nation, which leases much of its land to farmers.
"The Oneida Nation has a strong environmental program focus, and so they were very motivated to work with us," says Erin Houghton, watershed programs manager for NEW Water, "The farmers were also willing to work with us; they too are very close to the land."
NEW Water began working with the farmers and their agronomists, walking the fields with them to understand their resource concerns. "No one knows their fields better than the farmers do, but they may not be looking at their fields through the same conservation lens that we do," Houghton says.
- From TPO Magazine, June 2022
An alternate compliance option of Adaptive Management in the Ashwaubenon Creek and Dutchman Creek (ACDC) watersheds as part of its discharge compliance for phosphorus and total suspended solids (TSS) permit requirements established by the Wisconsin Department of Natural Resources. This cost-effective approach is an effort to achieve greater environmental gain for the community it serves, for generations to come.