A second grant for trees for Northeast Wisconsin
NEW Water has been awarded a second grant from the U.S. Forest Service under U.S. Environmental Protection Agency Great Lakes Restoration Initiative (GLRI) to plant nearly 1,900 trees. The effort supports water quality improvements by helping to capture stormwater runoff. Learn more about runoff here >>
Funding will be passed through to communities in NEW Water's service area including Brown County, Allouez, Bellevue, De Pere, Green Bay, Hobart, Howard, Ledgeview, and Pulaski. In 2020, NEW Water received a grant to plant 1,700 trees.
---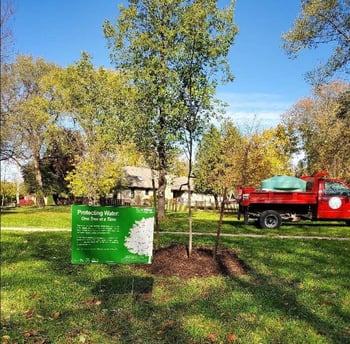 (April 2023) - An additional 468 trees were planted this past year, making it a total of 2,664 trees planted, to date, around the Brown County area. This year a total of 373 trees are planned to be planted around Brown County.
Trees help reduce storm water runoff and soil erosion, which helps to protect and improve area waterways. Green Bay is the largest freshwater estuary in the world, but what is that exactly? Learn more >>
---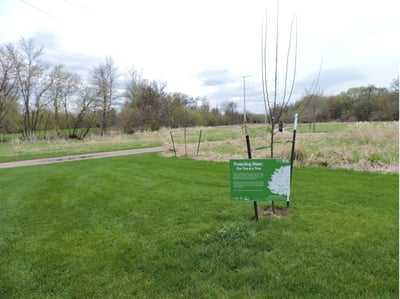 (April 2022) - Thanks to the support from a U.S. Forest Service grant to NEW Water, a total of 2,196 trees have been planted around Brown County in the last year, including 54 trees at NEW Water's De Pere and Green Bay Facilities. An additional 500 trees will be planted this year. Thank you to our municipal partners who are helping to protect area waterways by reducing runoff while enhancing green infrastructure in our service area.
Photo caption: Tree planted in Ledgeview
---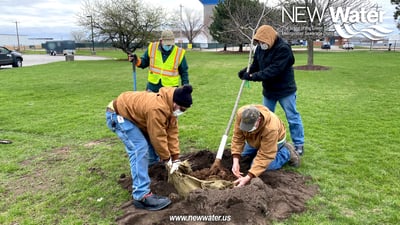 (April 2021) - In honor of Earth Day, NEW Water will be planting 53 total trees at their facilities, 43 trees at the Green Bay facility and 10 trees at the De Pere facility. Trees planted will include five Crabapples, 15 Elms, 10 Hackberries, eight Kentucky Coffeetrees, nine London Planetrees, and six Oaks.
Thank you to NEW Water staff for continuous work to help protect our most valuable resource, water. Special thanks to Mark Freberg, City of Green Bay Forester, for the assistance with the selection of tree species and sharing knowledge of proper planting techniques.
Photo caption: Trees are being planted at NEW Water's Green Bay Facility.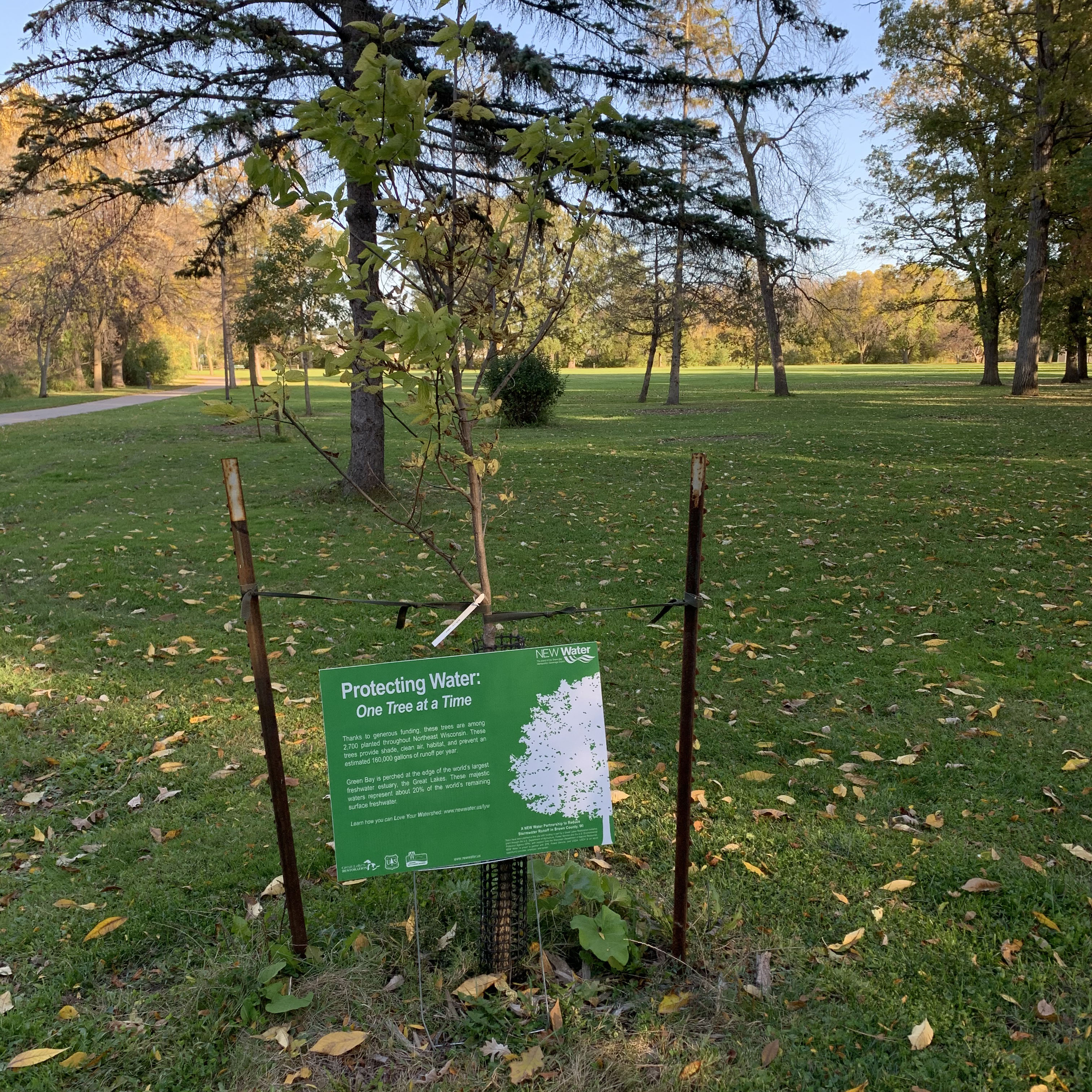 A win for water: U.S. Forest Service funds 2,700 trees for Northeast Wisconsin
(Oct. 2020) - NEW Water will work with partners to plant trees, to prevent an estimated 160,000 gallons of runoff per year
NEW Water has received $171,122 to work with municipal partners and the Oneida Nation to plant trees to enhance green infrastructure in its service area. NEW Water will work with Allouez, Ashwaubenon, Bellevue, De Pere, Green Bay, Howard, Ledgeview, and Oneida Nation to plant 2,700 trees.
"Clean water is one of our most important forest products. Through distribution of the Great Lakes Restoration Initiative grants, we are able to assist organizations and communities who are taking creative local and regional approaches to improve water quality through tree planting and other important forest conservation practices," said Gina Owens, Regional Forester, USDA Forest Service.
Green Bay is part of the larger Great Lakes ecosystem, which represents about 20% of the world's remaining surface freshwater, and provides drinking water for more than 30 million people.
NEW Water is committed to making a positive impact on the sources of water entering the Bay. NEW Water is working with partners in the watershed to reduce nutrient and sediment entering the Bay, for the greatest environmental gain, at the lowest cost.
"Planting trees provides an enormous environmental benefit for the community. Trees are the skeleton of our ecosystem, reducing storm water runoff and soil erosion, which improves water quality. This initiative will yield benefits for generations to come," said Jeff Smudde, Environmental Programs Director for NEW Water.
About the grant
The U.S. Forest Service is awarding more than $4 million in grants to support Great Lakes Restoration Initiative efforts. The Great Lakes Restoration Initiative is an Environmental Protection Agency-led cooperative effort between federal, tribal, state and local partners. As one of 16 GLRI task force members, the U.S. Forest Service uses grants to strategically target the biggest threats to the Great Lakes ecosystem and accelerate progress toward long-term restoration goals.
As a result of this collaborative effort of the Forest Service and Environmental Protection Agency, over 434,000 trees have been planted on nonfederal lands since 2010, preventing over 25 million gallons of stormwater runoff per year. These benefits will grow along with the trees. Great Lakes habitats have been protected through over 2,800 acres of invasive species treatments and 119 acres of permanently protected coastal wetlands and forests. These projects are also an investment in communities, empowering them to manage and maintain community trees, provide employment and job training, promote community volunteerism, and enjoy the economic and health benefits of trees and natural areas.to prevent an estimated 160,000 gallons of runoff per year.
Photo caption: Tree planted in Green Isle Park in Allouez