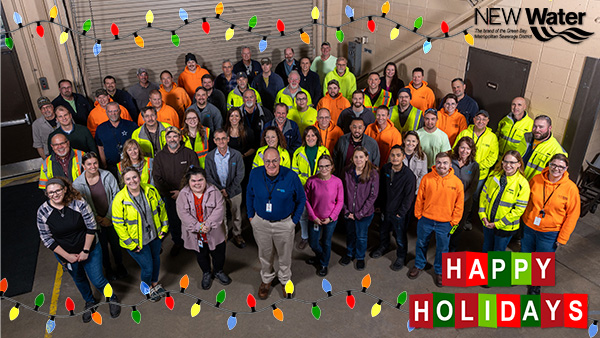 Happy Holidays!
On behalf of all of us at NEW Water, we wish everyone a safe and happy holiday season. We are proud to serve Northeast Wisconsin!
---
Community leaders and partners celebrate water
In October, community leaders and partners convened at the STEM Innovation Center at the University of Wisconsin-Green Bay (UWGB) to celebrate the 50th anniversary of the Clean Water Act and the 90th anniversary of NEW Water. The event featured messages from U.S. Senator Tammy Baldwin; U.S. Congressman Mike Gallagher; Environmental Protection Agency Assistant Administrator - Office of Water, Radhika Fox; WI Senator Rob Cowles; WI Department of Natural Resources Secretary Preston Cole; Brown County Executive Troy Streckenbach; UWGB Chancellor Michael Alexander; UWGB Dean of the College of Science, Engineering, and Technology, John Katers; and NEW Water Executive Director Tom Sigmund. Learn more >>
---

2023 Budget
In December, NEW Water's Commission passed a $48.7 million budget for 2023 to ensure that critical resources are available to continue essential work to serve more than 238,000 residents, as well as businesses, industries, and visitors in Northeast Wisconsin. NEW Water estimates that for the 2023 budget, a typical family will pay $24.40 per month* for NEW Water services (*not including costs charged to them by their municipality) to enable their family to do the dishes, do laundry, and flush the toilet around the clock.
---

Wisconsin Academy magazine features NEW Water
NEW Water was featured in Wisconsin People & Ideas, the magazine of the Wisconsin Academy of Sciences, Arts and Letters, in an article called "Making Waves from Wisconsin: Leadership in Clean Water." An excerpt follows below:
People driving across the Leo Frigo Bridge into Green Bay have a beautiful view of the Fox River, the Bay, and two 100-foot high, salmon-hued cylinders that represent sustainability in action. Those cylinders are anaerobic digesters at the Resource Recovery and Electrical Energy facility, or R2E2, containing microbes that convert organic matter in wastewater into methane gas. Read the full article here >>
---

NEW Water hosts the Wisconsin Wastewater Operators Association (WWOA) Conference
NEW Water hosted the 56th Annual WWOA Conference in Green Bay this year. Among activities at this event, NEW Water teams competed in the Operations Challenge, and placed; several NEW Water staff helped organize, gave presentations, and also hosted operators from around Wisconsin for a tour of our Green Bay Facility. Additionally, the WWOA magazine, The Clarifier, published a feature on NEW Water. Learn more >>
---

Community outreach at Fall Fest
In October, NEW Water had an educational booth at the Fall Fest on Broadway. The booth was a great hit at this family fun trick-or-treating event hosted by On Broadway, Inc. From princesses and superheroes to ghosts and ghouls and everything in-between, costumed children joined our team of #FlushFighters, played "Poop Emoji Cornhole," and visitors learned about the essential services NEW Water provides! Become a #FlushFighter >>
---
Salt wisely
'Tis the season! Wisconsin winters come with a lot of snow and ice. Salt wisely in order to lower the impacts of salt on your community and the environment. How much salt is too much? #LoveYourWatershed.
---

37th Season of monitoring area waters
NEW Water's Aquatic Monitoring Program wrapped up its 37th annual season of monitoring area waterways in October. In addition to the standard sample collection from 34 different stations throughout the Fox River, East River, and the Bay of Green Bay, the program successfully upgraded the Entrance Light monitoring station which has been integral for monitoring low dissolved oxygen, or hypoxia, since its inception in 1986. Learn more about this season >>
---

What's new at NEW Water
NEW Water held an update meeting on October 20, 2022, with topics including PFAS and Inflow & Infiltration. See that presentation here>>