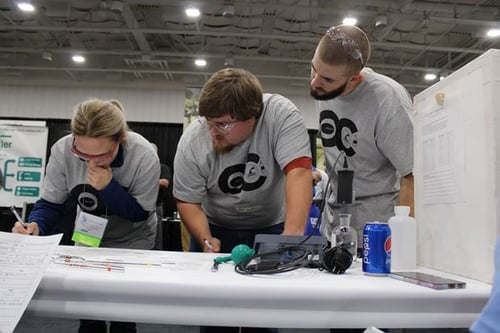 NEW Water was proud host to the 56th Annual Wisconsin Wastewater Operators Association (WWOA) Conference in Green Bay this year. Among activities at this annual event, NEW Water teams competed in the Operations Challenge, and placed; several NEW Water staff helped organize, gave presentations, and also hosted operators from around Wisconsin for a tour of our Green Bay Facility. Additionally, the WWOA magazine, The Clarifier, also published a feature on NEW Water.
Excerpts from The Clarifier story are found below. To read their full story, please visit:
NEW Water is currently celebrating its 91st year of proudly serving the residents, families, businesses, industries, and visitors to Northeast Wisconsin.
On the operations side, one of the most important initiatives underway pertains to the most valuable asset of any wastewater utility: People. More specifically, attracting new people to join the wastewater field, particularly due to strong competition for talent in the current marketplace, as well as retirements occurring right now. The so-called "greying workforce" is plaguing the wastewater sector right now; on the heels of the Clean Water Act in the 1970s, utilities undertook significant plant upgrades, and hired staff as well. Many of those hires have now reached retirement age.
"Protecting our most valuable resource, water, takes highly skilled and motivated individuals," said Tom Sigmund, Executive Director. "Wisconsin, like many other states, is facing a wave of retirements of people working in the clean water sector, and we're feeling it at NEW Water. We need to get ahead of this to keep our workforce strong."
- From The Clarifier, September 2022
Join our Team! Make water the focus of your future. Join our resilient, innovative, and connected Team to protect our most valuable resource, water. Learn more and apply today >>