This project has been completed.
The Ninth Street Interceptor Rehabilitation Project
Due to degraded condition of pipes and manholes in the sanitary sewer system, NEW Water is launching a project to rehabilitate this critical infrastructure.
NEW Water, the brand of the Green Bay Metropolitan Sewerage District, is a regional clean water utility providing wholesale conveyance and treatment services to 238,000 people across 15 municipalities in Northeast Wisconsin, including the City of De Pere. Our Team works around the clock to ensure the communities we serve can flush the toilet, do their laundry, and run their businesses whenever they want.
Where is the project located?
In the City of De Pere, near Scheuring Road, see enclosed map.
Will there be any assessments or charges for the project?
No, property owners will not be charged or assessed for this project.
Why are you doing this project?
NEW Water televises every pipe in its interceptor system (system of large underground sanitary sewer pipes) every five years to determine condition. We are also constantly evaluating capacity needs to serve the community now and into the future.
As part of that evaluation, NEW Water has identified this infrastructure for rehabilitation.
What will the project entail?
The Ninth Street interceptor pipeline will be rehabilitated with Cured-In-Place Piping (CIPP). CIPP is a commonly used "trenchless" (i.e., no digging) technology used to extend the service life of pipes. It includes a pipe-within-a pipe lining system to reduce groundwater infiltration and reinforce structural integrity.
For more information about CIPP and the installation process, please view this educational video created by NASSCO: Cured-in-Place Pipe Technology - NASSCO.
This project also includes rehabilitation of manhole structures. Manholes will be lined with an epoxy coating, which prevents additional corrosion of the structure, and extends their service life.
What is the project schedule?
At this time, it is anticipated that the contractor will start cleaning in mid-May, with rehabilitation work scheduled for June.
How will this impact me?
Sanitary sewer service during this project should not be impacted. Sanitary sewer bypassing will be required as part of this project. Residents may be asked to limit water usage during bypass periods. With the bypass, piping will be laid along the road. Access to driveways will not be restricted.
Ramps will be added to allow cars to drive over pipes in certain areas:
Across Scheuring Road

The intersection of Suburban Drive and Countryside Drive

Driveways on the east side of Suburban Drive
For most of the residential area, the bypass pipes will be smaller and flexible. Drivers can run over these pipes.
Anticipated Bypass Plans impacted residential areas are shown below.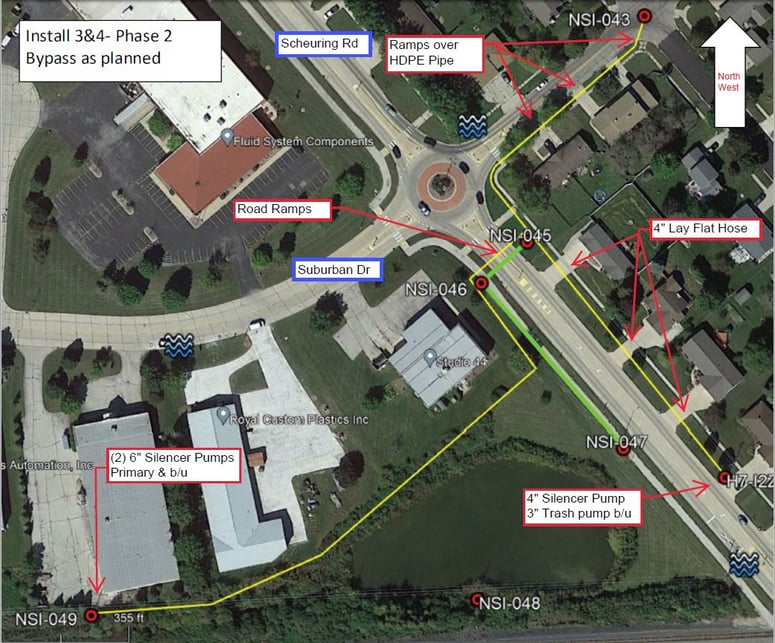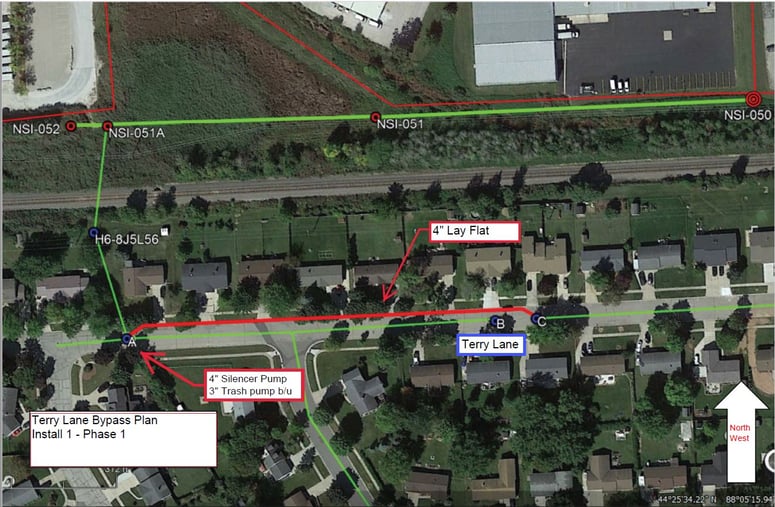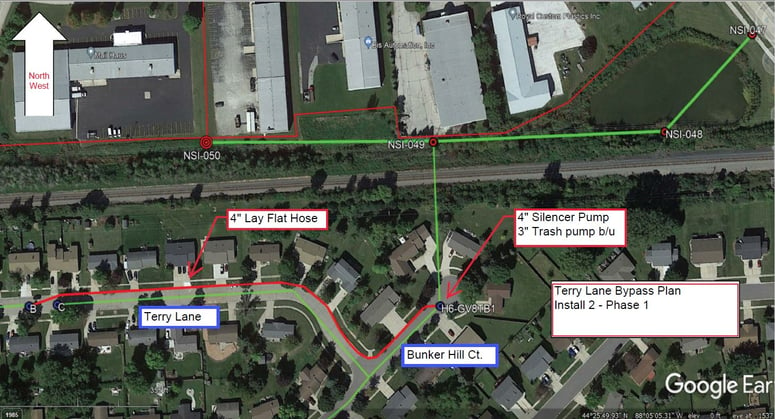 Safety first. As with any construction site, drivers are asked to slow down and proceed with caution, for the safety of the Teams working hard to ensure continued service to the community.
Who will be doing this work?
NEW Water has contracted with Michels Pipe Services, a division of Michels Corporation, to complete the work. Michels has subcontracted with United Rentals to assist with the by-passing. Donohue and Associates is assisting NEW Water with the design and construction of this project, and will serve as the on-site construction Field Engineer.
Who can I contact with questions or concerns?
Joe Holzwart with Donohue and Associates at (920) 803-7308
Lisa Sarau with NEW Water at (920) 438-1039
Thank you for your patience and support while we work to ensure continued reliability of wastewater services for your neighborhood, and our community.