This summer, NEW Water is helping to promote an exciting exhibit which aligns with our vision: Protecting our most valuable resource, water.
Discover the connections between plastic waste and the wellbeing of marine life with Washed Ashore: Art to Save the Sea, a traveling exhibit coming to the Green Bay Botanical Garden that features eight larger-than-life sculptures of animals made from trash and debris washed up from bodies of water.
The Washed Ashore exhibit is open daily during the Botanical Garden's regular hours of operation (9 am–8 pm daily through August 31, 9 am–6:30 pm from September 1–26). The eight sculptures, including Priscilla the Parrot Fish, Gertrude the Penguin and more, will be placed at several spots throughout the Garden for visitors to see and interact with. Sculptures will have educational signs highlighting facts about each animal, how plastic affects their environment and wellbeing, and everyday actions that can help make a difference.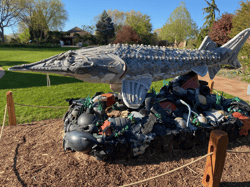 The Garden is the first and only venue in Wisconsin to host Washed Ashore and will also feature the debut of Stanley the Lake Sturgeon – a new sculpture to represent how plastic pollution affects freshwater and all life connected to our own Great Lakes. In addition to the exhibit, visitors can enjoy a variety of family-friendly drop-in activities mixing ocean, pollution, and play throughout the Garden.
With the mission to educate people of all ages on the rise of plastic pollution in our oceans and waterways, Washed Ashore helps spark positive changes in daily habits with water and waste using powerful pieces of art. The exhibit was founded by Angela Haseltine Pozzi, a teacher, consultant, and artist of more than 35 years whose international award-winning artwork has been widely collected and exhibited in galleries and museums around the world. Washed Ashore has also appeared at a variety of botanical gardens, aquariums, zoos, and museums across North America including the Toronto Zoo, the Smithsonian National Museum of Natural History, SeaWorld Parks in Orlando, San Diego and San Antonio, and the Epcot Center at the Walt Disney World Resort in Florida, among many more.
The exhibit is included with daily admission to the Garden and is free for Garden members. For more information on the exhibit, visit GBBG.org/WashedAshore.
What are microplastics and why are they harmful?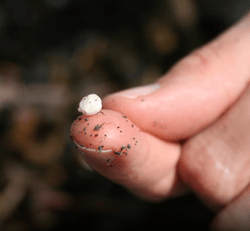 According to the National Ocean Service, microplastics are small plastic pieces less than five millimeters long which can be harmful to our ocean and aquatic life.
"Microplastics come from a variety of sources, including from larger plastic debris that degrades into smaller and smaller pieces. In addition, microbeads, a type of microplastic, are very tiny pieces of manufactured polyethylene plastic that are added as exfoliants to health and beauty products, such as some cleansers and toothpastes. These tiny particles easily pass through water filtration systems and end up in the ocean and Great Lakes, posing a potential threat to aquatic life," according to The National Ocean Service.
Help reduce plastic waste and learn what you can recycle from Brown County Recycling.