Recycling is an everyday action that helps prevent plastics from entering our waterways.
What can be recycled in Brown County?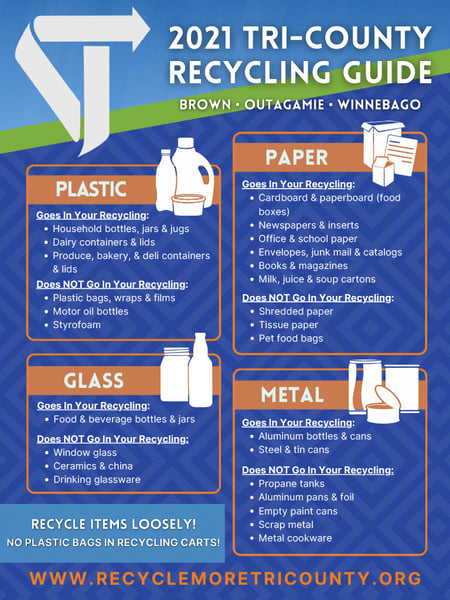 Brown County is a single stream recycling community. Single stream recycling means you are able to put all of your recyclable materials, including paper and plastic, into one recycling container without needing to separate them.
Recyclable paper, plastic, glass, tin/steel and aluminum cans should be placed in a designated curbside recycling cart. Recycling carts are available by contacting the municipality in which you live. Containers should be rinsed to remove all product from the container and cap and lids should be replaced and then recycled along with the container. Cardboard should also be cut to size.
Acceptable recyclable materials include:
All plastic jugs and containers, no matter the number

Examples include household bottles, jars & jugs​, dairy containers & lids, and produce, and bakery & deli containers & lids

Paper

Examples include newspapers & inserts, cardboard & paperboard (food boxes), milk, juice & soup cartons, office & school paper, junk mail & catalogs, phonebooks, books (including hardcover) & magazines

Metal

Examples include aluminum bottles & cans, steel & tin cans, and empty aerosol cans (no pesticide containing aerosols though)

Glass

Examples include food and beverage bottles & jars
Photo credit: Brown County Recycling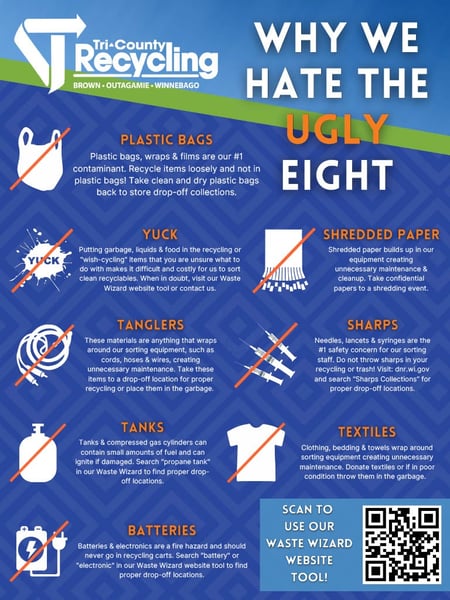 Unacceptable materials include:
Plastic bags or wrap

Shredded paper

Motor oil bottles

Styrofoam

Tissue paper

Window glass and drinking glasses

Scrap metal

Aluminum pans or foil

Propane tanks

Empty paint cans

Paper towels

Receipts
Photo credit: Brown County Recycling
---
Hazardous Materials
The Brown County Hazardous Material Recovery Facility accepts materials that pose a threat to human health and the environment. These materials are flammable, poisonous, corrosive, or reactive.
These materials include:
Acceptable Hazardous Waste:

Corrosive - acids, bases, cleaning products

Flammable - paint, gasoline, paint thinners, solvents, motor oils, car chemicals

Poisonous/Toxic - pesticides, cleaning products, insecticides

Reactive - pool chemicals, aerosol cans, fire extinguishers
Other Acceptable Material:
Electronics - cell phones, chargers, computers, printers, televisions

Small Appliances - microwaves, dorm or miniature refrigerators, dehumidifiers, air conditioners, power tools, etc. (fees apply, learn more here)

Others - fluorescent light bulbs, ballasts, cooking oil, propane tanks, oil, antifreeze, batteries (fees apply, learn more here)
Hazardous materials can be dropped off at the Resource Recovery Facility located at 2561 S. Broadway, Green Bay, WI 54304 during the residential drop off hours of
Tuesday: 9:00 am - 3:00 pm
Thursday: 12:00 pm - 6:00 pm
Saturday: 8:00 am - 2:00 pm
For more information visit the Acceptable Hazardous Material webpage or call (920) 492-4950.
Mercury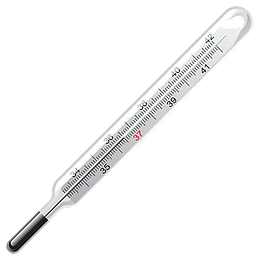 Thermometers and other devices containing mercury such as thermostats may also be brought to the Hazardous Material Recovery facility. This material is taken free of charge from Brown County residents. If you are an out of county resident please call (920) 492-4950 for pricing.
Photo credit: Brown County Recycling
For more information about recycling materials in Brown County, please visit Brown County Recycling.
---
NEW Water is continuing to help to promote an exciting exhibit which aligns with our vision: Protecting our most valuable resource, water.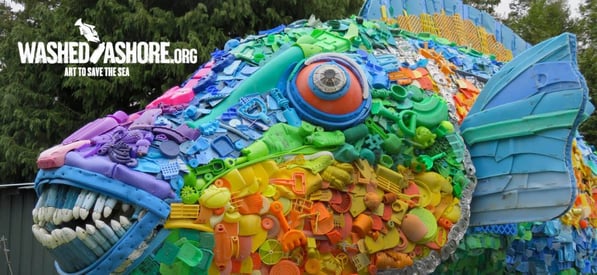 Discover the connections between plastic waste and the well being of marine life with Washed Ashore: Art to Save the Sea, a traveling exhibit held recently at the Green Bay Botanical Garden featuring eight larger-than-life sculptures of animals made from trash and debris washed up from bodies of water.

The Washed Ashore exhibit includes sculptures with educational signs highlighting facts about each animal, how plastic affects their environment and well being, and everyday actions that can help make a difference.
Photo credit: Green Bay Botanical Garden.
---