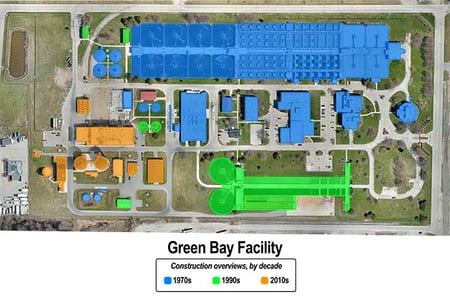 May 2022 - The Press Times featured NEW Water, the brand of the Green Bay Metropolitan Sewerage District, for planning for the future with a Facility Plan, so the community can continue to flush the toilet, wash the dishes, and run their businesses whenever they want.
Excerpts from The Press Times story are found below. To read their full story, please visit:
Over the last nine decades, the metropolitan sewer district has undergone many upgrades and expansions to keep up with the growth of the area.
NEW Water Executive Director Tom Sigmund said for projects identified in the facility plan, which will be phased-in over the next 20 years, the investment needed is approximately $245 million to $370 million.
He said the plan looks to address the condition, performance and capacity gaps, develop infrastructure improvement packages and evaluate project prioritization and cost impacts at both the Green Bay and De Pere facilities.
Sigmund said the plan is a requirement of the Wisconsin Department of Natural Resources (DNR) and is required in order to qualify for Clean Water Fund low-cost loans, which are 55% of the market rate.
He said the projects focus on the plant's liquid treatment facility, as the solids portion of the plant was upgraded about five years ago.
"We have work to do around our influent pumping station at the Green Bay facility and the screening step which removes the solids and grit," Sigmund said. "We then have four primary clarifiers which need to be rehabilitated. We have secondary clarifiers after our biologic treatment system, some solids handling in terms of thickening our solids and some storage improvements."
He said replacing the primary clarifiers at the Green Bay facility will likely be the first project undertaken, with sludge thickening improvements will be right behind.
The other projects, Sigmund said, are primarily to replace equipment which has been in use since 1974 and some increase in capacity.

- From The Press Times, May 14, 2022
NEW Water is a wholesale provider of services to 15 municipal customers, serving residents in a 285-square-mile area. NEW Water's Facility Plan is intended to meet current and future needs to ensure continued reliability of service for the community we serve.