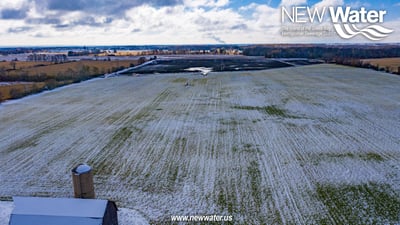 NEW Water recognized by National Association of Clean Water Agencies (NACWA) with National Environmental Achievement Award
(Washington, D.C.) –Winners of the 2021 National Environmental Achievement Awards (NEAA) have been notified of their achievement. This annual awards program is presented to NACWA member public clean water utilities that have made outstanding contributions to environmental protection, their communities, ratepayers, and the water sector.
This year's Awards are presented to winners in the following categories:
Operations and Environmental Performance
Public Information and Education
Workforce Development
Watershed Collaboration
Please find a full list of this year's NEAA recipients.

Adam Krantz, Chief Executive Officer of NACWA, applauds this year's recipients, noting:
"Despite the many challenges and setbacks that we faced as a nation and a global community in 2020, these NACWA member public utilities were able to deliver on the promise of continued and reliable clean water services. The herculean efforts by the staff and leadership of the over 300 utilities that comprise NACWA's membership cannot be overstated, particularly their work as front line environmental first responders. Truly, America's public clean water utilities held steadfast in their commitment to serve and inspire their communities throughout the course of the pandemic."
"To that end, it is my great honor to bestow this year's National Environmental Achievement Awards to these extraordinary utilities. Collectively, they represent the forward-thinking, ambition, and civic-minded environmental stewardship that is the hallmark of today's public water sector utilities. Congratulations, and I look forward to celebrating with you in person next year."
NEW Water produced the "Thank You, Farmers!" video in early 2020 (prior to the pandemic). Partners highlighted in the video are collaborating with NEW Water on its NEW Watershed Program.
"We're honored to receive this national recognition from our partners in the water sector," said Tom Sigmund, Executive Director of NEW Water. "We created the video to show gratitude for our agricultural partners out in the watershed, doing extraordinary work to help protect our most valuable resource, water."
About the National Environmental Achievement Awards
The National Environmental Achievement Award Program recognizes NACWA member agencies that have made outstanding contributions to environmental protection and the clean water community. Awards are given annually; agency honorees are typically recognized at NACWA's Winter Conference but will be honored virtually in 2021. To learn more, please visit the awards website here.
About NACWA
For nearly 50 years, the National Association of Clean Water Agencies (NACWA) has been the nation's recognized leader in advancing sustainable and responsible policy initiatives that help shape a strong and sustainable clean water future. NACWA seeks to fulfill this mission through its national recognition/awards program, its clean water advocacy and communications, and its peer-to-peer utility network to share best practices from coast-to-coast. For more information, visit us at www.nacwa.org.
About NEW Water
NEW Water is a water resource utility serving Northeast Wisconsin through pollution prevention, operational innovation, and community outreach. NEW Water is a wholesale provider of services to 15 municipal customers, throughout a 285-square mile area. For more information, visit us at www.newwater.us