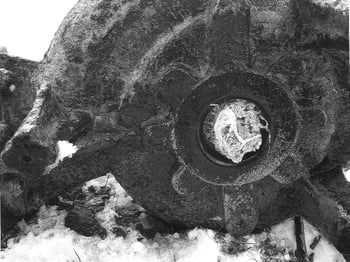 NEW Water is the recipient of a 2023 National Environmental Achievement Award for the Public Information & Education category from the National Association of Clean Water Agencies for its "The Unflushables: Something Had to Give!" campaign.
Like others in the clean water sector, "unflushables" are a problem at NEW Water. Wipes, sanitary products, wrappers, dental floss, etc., get flushed down the toilet and inhibit the sanitary sewer system from working properly. Unflushables incur costs, harm the environment, and divert staff efforts away from their critical role as guardians of water and public health – all because people are treating their toilets like a trashcan.
Facing costs to upgrade equipment due to the unflushables, it was clear that the path was not sustainable: "Something's gotta give," said NEW Water Executive Director Tom Sigmund.
The NEW Water Team reached out to its municipal partners looking for a partner on a targeted educational campaign. Thanks to the enthusiastic participation from a Municipal Partner, together, they targeted one neighborhood of about 100 homes. The geographic location of this neighborhood aided their efforts to determine if their campaign actually worked: The neighborhood is served by one lift station that collects the wastewater from those homes and sends it over to NEW Water's Green Bay Facility to be cleaned. Therefore, "seeing" whether unflushables actually decreased as a result of the campaign was actually possible. Usually this would be difficult to detect, since wastewater systems can be vast, collecting and conveying millions of gallons through miles of pipes, making it difficult to pinpoint when and where unflushables enter the system. With this specific neighborhood identified, together, the Team produced a game plan which included taking physical measurements (of the unflushables in the lift station) and conducting a residential survey prior to, and after, the targeted education.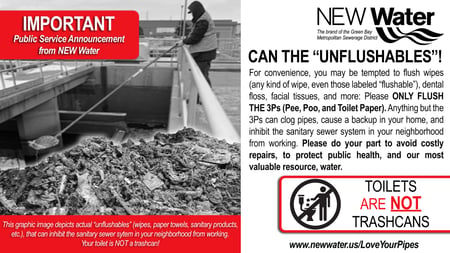 Additional tactics included producing a video with the municipal staff's Operators, bill stuffers, a joint letter from the Municipal President, social media, Public Service Announcements (PSA) in the municipal newsletter, and more. After their educational efforts, a second round of physical measurements were taken, and a second residential survey was conducted.
The result? More than a 1,000% reduction in unflushables in this neighborhood. The lift station went from being plagued by one "shovelful" of unflushables a week to none. "I have never seen our Operators so happy!" exclaimed the Municipal President.
The Team intends to take lessons learned from this effort to further scale-up their educational program and apply to other neighborhoods in their service area. "Through partnerships like these, we can better protect our most valuable resource, water," said Sigmund.