Click the image to learn more about the Facility Plan
---
Local industries lauded
NEW Water applauds local industries, which received Significant Industrial User Awards for achieving permit compliance! Thank you industries for doing your part to protect Wisconsin's waters!
---
NEW Water testifies before Senate on critical EPA Clean Water Funding tool
On March 16, NEW Water Executive Director, Tom Sigmund, testified before the U.S. Senate on behalf of a critical funding tool which offsets costs for Northeastern Wisconsin families, industries, and businesses. Sigmund testified before the Senate Environment and Public Works Committee on behalf of National Association of Clean Water Agencies (NACWA). See the testimony and learn more >>
---
Congratulations, Dr. Harold "Jack" Day, 2022 Water Champion!
NEW Water teamed up with the Green Bay Water Utility to commemorate World Water Day. This year's Water Champion award went to Dr. Harold "Jack" Day - Professor Emeritus, University of Wisconsin-Green Bay, and former NEW Water Commission President for his dedication and innovative efforts to improve Wisconsin's water. Learn more >>
---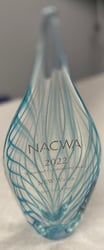 NEW Water receives honors
NEW Water received the National Association of Clean Water Agencies (NACWA) 2022 National Environmental Achievement Award - Watershed Collaboration Award for the Silver Creek Pilot Project. This award is presented for an outstanding watershed-based collaborative management initiative or program focused on cost-effective solutions to environmental challenges. NEW Water was one of three utilities in the country that was recognized for this award in 2022.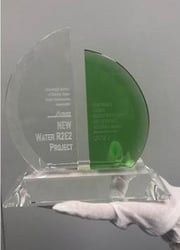 The Wisconsin Section of Central States Water Environment Association (CSWEA) has awarded NEW Water's R2E2 Project with the 2021 Renewable Energy, Energy Efficiency, and Resource Recovery (3R3E) Award. The award is for an individual or organization that has implemented an outstanding, novel, or otherwise especially impactful project to increase renewable energy generation, energy efficiency, and/or resource recovery from industrial, agricultural, municipal or domestic wastewater or wastewater residuals.
---
What's New at NEW Water
NEW Water held an update meeting on March 17, with topics including Capital Fixed Charge Study, Inflow & Infiltration, and end-of-pipe impact. Check out the presentation >>