NEW Water's "effluent," or water we discharge into the Fox River, is generally cleaner than the receiving water. We collect and treat an average of 41 million gallons a day from our two facilities. NEW Water is proud to be permit compliant for 18 years in a row. This sample of our effluent is from September 5.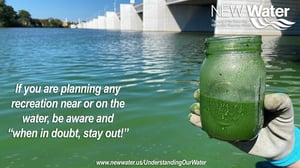 Summer was not quite over yet when this sample was taken of the Fox River on September 5! Cyanobacteria, or blue green algae, can still bloom this time of year, causing the water to look green, especially on calm days. Cyanobacteria can be harmful to humans and animals from contact or consumption. Whenever you are planning any recreation near or on the water, be aware, and "When in doubt, stay out!"
---
The East River Community Resiliency Project
With flooding becoming more of a concern in our area, the East River Resilience Collaborative (ERRC) is taking a "more holistic watershed-based approach to resilience planning and water resource management," and NEW Water is part of the effort to make this happen. In August, NEW Water participated in a field tour to talk about the NEW Watershed Program as a part of the ERRC's Field Tour Series in the upper watershed of the East River. In September, NEW Water also participated in the second field tour in the middle part of the watershed in Allouez. The final tour will be held in the lower watershed at Van Beaver Park in Green Bay on October 19.
Additionally, a climate resiliency roundtable was held by Lieutenant Governor Mandela Barnes, Representative Kristina Shelton, and Mayor Eric Genrich, with a NEW Water team member in attendance, to discuss the impact climate change has had on the Green Bay area. Some key impacts identified included flooding along with Inflow & Infiltration, shore erosion, water quality, air quality, extreme weather/storm intensities, lack of emergency funding, rural agriculture challenges including crops and farmer livelihood, and disruption of natural ecosystems.
---
Green Infrastructure Evaluation Project
Thanks to receiving a grant from the Fund for Lake Michigan, NEW Water will be conducting evaluations at six locations on properties owned by NEW Water in Green Bay, De Pere, Ledgeview, and Scott to determine feasibility for Green Infrastructure, or "GI," implementation. GI encompasses a variety of methods and technologies that can help improve water quality and quantity by mimicking the natural water cycle, while also enhancing community resilience. We're hoping to identify innovative GI options to improve water quality and sustainability in the region.
---
Recycling in Brown County to prevent pollution
Recycling is an everyday action that helps prevent plastics from entering our waterways.
Brown County is a single stream recycling community. Single stream recycling means you are able to put all of your recyclable materials, including paper and plastic, into one recycling container without needing to separate them.
The Brown County Hazardous Material Recovery Facility accepts materials that pose a threat to human health and the environment. These materials are flammable, poisonous, corrosive, or reactive.
---
Calling all STEAM Superheroes
Congratulations to our newest "Defenders of the Bay" from The Boys & Girls Club of Greater Green Bay on learning ways to defeat the villains. This year "A" in STEAM was added into the camp to incorporate communication arts. It is important to educate our community on what goes into protecting our most valuable resource, water. One new Defender stated "I now know what not to flush and what I can flush! I didn't know that I shouldn't flush wipes. I can't wait to go home and tell my mom and dad!"
---
#LoveYourWatershed
Shout out to all our partners working in Northeast Wisconsin to help protect our most valuable resource, water. What a difference 7 years can make working in the watershed!
Be part of the solution by raking up your yard waste this fall to help protect our local waterways from excess nutrients entering our water.
---
What's new at NEW Water
An update meeting with a financial focus was held on July 29, 2021, with topics including Budget 101, Facility Plan & Capital Improvement Plan, and Financial Forecast.