COVID-19 in wastewater study
NEW Water is proud to partner with UW-Milwaukee on a study testing for COVID-19 in wastewater.
Read more here
---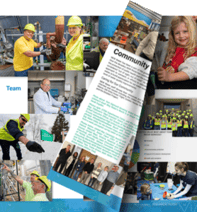 2019 annual report
NEW Water's 2019 Annual Report is hot off the press!
---
Partnering for water
Thanks to a grant from the Community Foundation for the Fox Valley Region, NEW Water will be able to provide Outagamie County with a side-by-side utility task vehicle to make field walks and inspections more efficient.
---
Thank you, farmers!
Thank you to farmers for helping protect area waters. See the new video here and learn more about what we're doing in the watershed with our NEW Watershed Program.
---
Municipal customer meeting
NEW Water held a virtual meeting with Municipal Customers on June 25, with topics including Facilities Plan, COVID-19, and savings resulting from bond refinancing.