NEW Water's response to COVID-19
Due to COVID-19, NEW Water has modified its essential visitor/contractor procedures and will need to provide additional information prior to visiting NEW Water facilities. The form must be completed before any visitor can enter NEW Water operated facilities and properties. The NEW Water Virus Documentation Form is to be completed once per visit as long as their condition remains the same. Fill out the form here.
---
March 2021 - Our utility remains closed to the public throughout the pandemic. Meanwhile, we continue to follow all safety precautions as recommended by Wisconsin Department of Health Services, Brown County Public Health Department, the Centers for Disease Control by enforcing masking, physical distancing, additional cleaning and disinfection measures, in order to keep our staff safe, so that we can continue to serve our community around the clock.
---
Wisconsin COVID-19 in wastewater study continues
NEW Water continues to participate in a COVID-19 in wastewater study, with the University of Wisconsin-Milwaukee, which is part of a larger initiative of the Wisconsin State Laboratory of Hygiene's (WSLH) and Wisconsin Department of Health Services (DHS) project. The project goal is to "determine the presence of the novel corona virus (SARS-CoV-2) that causes COVID-19 in Wisconsin communities served by wastewater treatment facilities by quantifying the genetic material of the SARS-CoV-2 virus in wastewater influents." NEW Water is among approximately 50 other facilities in Wisconsin participating in the project, which aims to eventually have 100 wastewater facilities participate. The testing has the potential to show trends of increased/decreased cases up to seven days before individuals are showing symptoms or before getting tested in person. This could help a community more quickly adapt to the changes in cases even before people are individually tested. See the FAQs on the project here, and see the COVID-19 in Wastewater Surveillance in Wisconsin website here.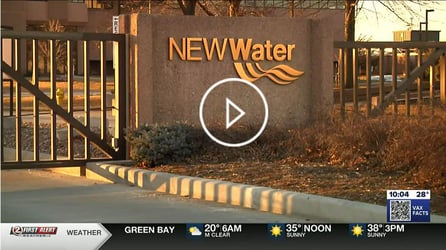 March 2021 - WBAY featured NEW Water's partnership in providing samples for the COVID-19 in wastewater study to help determine trends in the community.
"NEW Water is currently supplying wastewater samples from both our De Pere plant and Green Bay plant. Since they are separate service areas, there is value from grabbing a sample from each plant," said Jake Becken, Treatment Lead.
As our team safely continues to provide essential duties, we do remind everyone to not treat your toilet like a trash can. Flush ONLY the 3Ps (Pee, Poo, & toilet Paper).

Read the full story here.
---
NEW Water joins COVID-19 in wastewater study
June 2020 - NEW Water, the brand of the Green Bay Metropolitan Sewerage District, is one of several wastewater treatment plants across the state providing researchers at University of Wisconsin-Milwaukee (UW-Milwaukee) with weekly "influent" samples ~ or "raw" wastewater samples ~ for SARS-CoV-2 sewage surveillance. Wastewater monitoring holds the potential to be an indicator or an early warning system for increases in cases of COVID-19 within a municipality. Sewage surveillance will allow researchers to follow trends and alert public health officials if there is an increase in the virus measured in wastewater.
"We're proud to partner with UW-Milwaukee to help advance scientific knowledge of COVID-19," said Tom Sigmund, Executive Director of NEW Water. "Study on this important topic is underway both nationally and internationally, and it's great that we're able to do our part in Wisconsin to further the science."
NEW Water began collecting samples in March preemptively, knowing that there may come a time when these samples would be of value to someone who wanted to study the virus in our municipality. It was soon thereafter, Dr. Sandra McLellan from UW-Milwaukee contacted NEW Water in hopes we would want to join several other key municipalities, Milwaukee and Racine, to participate in a year-long study of SAR-CoV-2 using sewage surveillance.
Samples are collected from the wastewater entering the De Pere and Green Bay wastewater treatment facilities on Sundays and Mondays and are shipped immediately to Milwaukee for 'live' analysis. UW-Milwaukee is developing a reporting system for these results and understand that communication is key.
UW-Milwaukee is collaborating with several other research labs across the United States so the trend from the state of Wisconsin can be compared to that of other states. Early on, several of these researchers worked to understand if the virus can survive the wastewater treatment process. Initial results have indicated the virus is "wimpy" in the wastewater treatment plant environment and not being detected in effluent. These results have also been supported by the CDC, read more here.
NEW Water was part of a Fox 11 News story, see more here.