The partnership continues to help area youth protect our waters and become "Defenders of the Bay!"

It's a bird, it's a plane, no it's the STEAM Superheroes! NEW Water, the brand of the Green Bay Metropolitan Sewerage District, teamed up with the Boys & Girls Club of Greater Green Bay (BGCGB) for an interactive 2021 Virtual STEAM Superheroes Camp, making this year the 6th year of educating, engaging, and inspiring area youth to care about our water. There was 31 area youth that became 'Defenders of the Bay,' learning important skills to help protect our precious water resources right here in Green Bay from the STEAM Superheroes "Commander CleanWater" and "Watershed Warrior."
The local youth development organization is dedicated to providing quality education and opportunities for youth to engage in STEAM (Science, Technology, Engineering, Art, and Math) activities in a safe, positive, and intellectually stimulating environment.
This year NEW Water added the "A" into the camp to incorporate communication arts. It is important to educate our community on what goes into protecting our most valuable resource, water. Communication arts includes writing, photographs, graphic design, videos, performing arts, and more!
"NEW Water has always found creative ways to engage the youth at the Club and make learning about our water system fun. The virtual camp this year was a blast and I know it took a lot of work on their end, so I am so grateful to them and this whole experience. We look forward to continuing this partnership and getting back to hosting the camp in-person!" ~ Hannah Shimek, Program Development and Training Specialist at BGCGB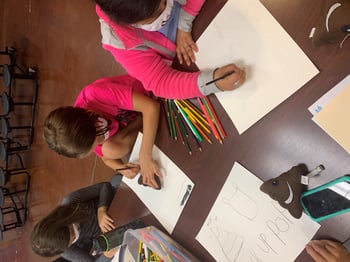 It Each year, the youth complete fun, hands-on educational, and interactive activities to learn skills in STEAM, earning certificates to become "Defenders of the Bay," and become part of the NEW Water STEAM Superheroes Team. These important skills are needed for jobs of the future including working at NEW Water. The STEAM Superheroes Camp gives a shout out to cool careers that need STEAM skills that kids might not think about.
"I now know what not to flush and what I can flush! I didn't know that I shouldn't flush wipes. I can't wait to go home and tell my mom and dad! ~ 9-year-old member from the BGCGB
For health and safety reasons, the camp again was held in a virtual format and included a "trash pickup" the Club organized on their site. The live 'virtual' camp featured "Commander Clean Water" (Aaron Eichhorst, NEW Water Treatment Lead), and "Watershed Warrior" (Erin Houghton, Watershed Program Manager), as they explained the connection between the Fox River, the Bay of Green Bay, Lake Michigan, and Great Lakes. The STEAM Superheroes explained the "evil villains," which also were played by NEW Water staff, and how they threaten area waters from runoff, "Phosphorus Phury," "Sinister Sediment," and the "Unflushables," which are polluting area waters.
"My favorite part was when we got to throw the poop emoji pillows at the 'villains' because they were hurting the water." ~ 8-year-old member from the BGCGB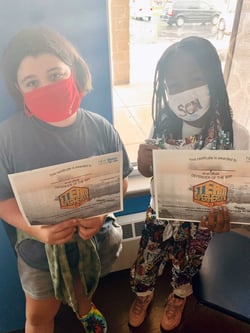 NEW Water also created a 'virtual' educational package for both the Club teachers and the youth, which explains how picking up trash helps keep area waters clean from these three evil villains!
About Boys & Girls Club of Greater Green Bay
The Boys & Girls Club of Greater Green Bay, believes every child deserves to be in an environment that brings out the very best in them. For more than 50 years, the Club has provided youth aged 7-18 with a safe place to learn and grow during out-of-school hours, while also opening the door to positive relationships with caring adult professionals and life-changing opportunities through educational programs. The Club has 12 locations throughout greater Green Bay where memberships are available for only $10 per year. For more information, please visit www.bgcgb.org. You can also find us on Facebook, Instagram, and Twitter!