Dr. Kevin Fermanich of University of Wisconsin-Green Bay honored as NEW Watershed Champion 2020
In honor of World Water Day, today Dr. Kevin Fermanich of the University of Wisconsin-Green Bay was lauded for his efforts to improve area waters.
Dr. Fermanich was recognized at the 7th annual World Water Day event hosted by NEW Water, the brand of the Green Bay Metropolitan Sewerage District, and the Green Bay Water Utility at the Jack Day Environmental Education Center. World Water Day (www.worldwaterday.org) is a commemorative event launched by the United Nations in 1993 to bring awareness to global water issues. The two water entities honor World Water Day to call attention to local water issues, including aging infrastructure and impairments, and to celebrate the efforts of a local champion in caring for the watersheds of Wisconsin.
The theme of this year's World Water Day is "Water and Climate Change." Globally, this means an increasing demand for water as populations increase, which can drain natural resources and cause environmental damage.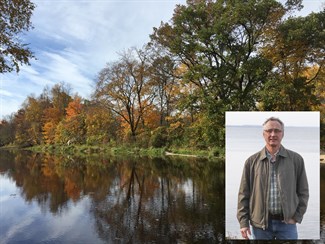 "The Green Bay Water Utility is adapting to address the water effects of climate change to continue to protect health and safety to our customers," said Nancy Quirk, General Manager of the Green Bay Water Utility.
The World Water Day held in Green Bay also serves to celebrate local efforts to strive toward solutions. This year's NEW Watershed Champion, Dr. Fermanich, has worked at the University of Wisconsin-Green Bay since 1998, where he is Professor of Water Science, Geoscience, and Environmental Science. Along with many partners, Dr. Fermanich and his students study water quality, watershed management, soil health, Green Bay restoration, and agricultural management issues. Dr. Fermanich is a lead co-principal investigator on a collaborative project studying the links between edge-of-field water quality, soil health, and field management at sites in Great Lakes priority watersheds. Additionally, Dr. Fermanich is a soil and water resources specialist with Wisconsin Extension.
"Our era faces a number of water challenges, not only globally, but here in Wisconsin as well. Dr. Fermanich exemplifies the spirit of working together to find solutions to the many vexing water challenges we're facing today," said Tom Sigmund, Executive Director of NEW Water.
Learn more about Green Bay Water Utility: www.gbwater.org
Learn more about NEW Water: www.newwater.us
(Picture top, left to right: Dr. Harold "Jack" Day, Professor Emeritus, University of Wisconsin-Green Bay (UWGB), and former NEW Water Commission President; Dr. John Katers, Dean of Sciene and Technology at UWGB; Dr. Kevin Fermanich, Jill Fermanich; Nancy Quirk, Green Bay Water Utility; and Tom Sigmund, NEW Water)