Kelly Ellis named 2018 NEW Watershed Champion
STEM leader celebrated for her contributions to a sustainable community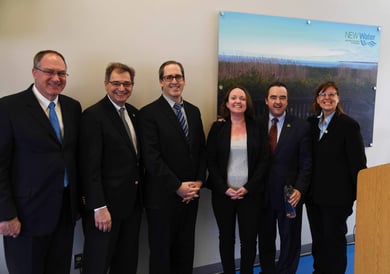 Ms. Kelly Ellis was named 2018 "NEW Watershed Champion" for founding the Greater Green Bay STEM Network as well as other contributions in the realm of science, technology, engineering and mathematics essential to effectively care for, and manage, our precious water resources.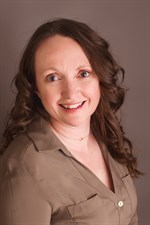 Ellis was honored at the fifth annual World Water Day event hosted by NEW Water, the brand of the Green Bay Metropolitan Sewerage District, and the Green Bay Water Utility at the Jack Day Environmental Education Center in Green Bay. World Water Day (www.worldwaterday.org) is a commemorative event launched by the United Nations in 1993 to bring awareness to global water issues. The two water entities honor World Water Day to call attention to local water issues, which include aging infrastructure and impairments, and to celebrate the efforts of a local champion in caring for the watersheds of Wisconsin.
"In an age in which an increasing number of long-time employees of the water industry are retiring, it's become all the more important to emphasize the relevance of STEM skill-sets in students' future careers," said Nancy Quirk, General Manager of the Green Bay Water Utility. "The community-wide work Kelly Ellis has spearheaded to this end is crucial to our watershed."
Added Tom Sigmund, Executive Director of NEW Water: "For the water challenges facing the 21st century, a continued emphasis on STEM skillsets will help bring those solutions to the fore," Sigmund said. "We applaud Kelly's efforts to amplify the importance of STEM education, and to help emphasize the value of our water resources."
Through her leadership as Head Honcho (Executive Director) of the Einstein Project, and as founder of the Greater Green Bay STEM Network, Ellis has provided vibrant, high-quality educational opportunities, and has convened leaders in academia, government, nonprofit, and business, fostering a spirit of teamwork that has achieved national recognition, and is helping build a more sustainable community. Much like education, sustainability is an issue that must be addressed community-wide. We are blessed to live in a region where it isn't hard to encourage individuals and organizations to work together to amplify efforts and to create bigger impact," she said. "The Greater Green Bay
STEM Network membership continues to grow and work on bigger projects and create new strategic partnerships so we can continue to share our precious resources."
Einstein Project elevates STEM education by providing resources and curriculum for quality, hands-on science, engineering, and math kits. As a nationally recognized STEM resource center, the Einstein Project is an inquiry-based solution for teachers in schools as well as educators of out-of-schools programs. Along with providing educators with materials in kits, the Einstein Project also provides interactive educator professional development training and makerspace support. Einstein Project's strives to lead and inspire excellence and innovation in education. To learn more about the Einstein Project, visit einsteinproject.org.
Since 2013, the Greater Green Bay STEM Network has been making STEM more accessible to our community by sharing resources and supporting each other's activities. In 2017, the STEM Network joined the national STEM Learning Ecosystem. Learn more at www.einsteinproject.org and www.greatergbstem.org.
To learn more about NEW Water, please visit www.newwater.us. To learn more about the Green Bay Water Utility, please visit www.gbwater.org
Photo Top: Tom Sigmund (NEW Water Executive Director); Chancellor Gary Miller (UWGB); Troy Streckenbach (Brown County Executive); Kelly Ellis ( NEW Watershed Champion); Mayor Jim Schmitt (Green Bay); Nancy Quirk (Green Bay Water Utility Manager)