Brickstead Dairy - Family-owned dairy farm lauded for conservation efforts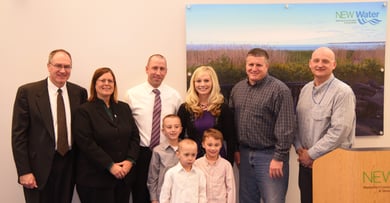 Brickstead Dairy today was named 2017 "NEW Watershed Champion" for demonstrating innovation and leadership in their sustainable farming practices.
The historic family farming operation was honored at the fourth annual World Water Day event hosted by NEW Water, the brand of the Green Bay Metropolitan Sewerage District, and the Green Bay Water Utility. World Water Day (www.worldwaterday.org) is a commemorative event launched by the United Nations in 1993 to bring awareness to global water issues. The two water entities honor World Water Day to call attention to local water issues, which include aging infrastructure and impairments, and to celebrate the efforts of a local champion to improve area waters. Brickstead Dairy is known for its finding and implementing farming solutions that both help sustain natural resources and are economical.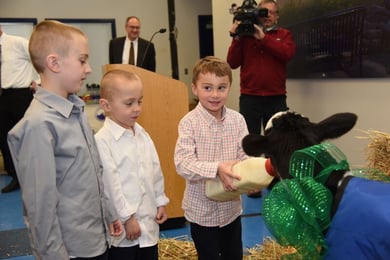 "Sustainability is very important to me because we want to ensure that the legacy of Brickstead Dairy continues," said Brick. "And to do that, we have to ensure we have clean water and are stewards of the land." At Brickstead Dairy, that entails incorporating the use of cover crops to protect the soil and surround streams and rivers. Those crops build healthy soil, keep it from eroding, hold phosphorus and other nutrients in place and help the soil more effectively hold water for the main crops to feed the cows."
"It's heartening to see how an outfit of Brickstead Dairy's size has taken the lead in conservation efforts related to preserving water quality, not only on behalf of their homestead, but the entire dairy industry," said Nancy Quirk, General Manager of the Green Bay Water Utility.
Added Tom Sigmund, Executive Director of NEW Water: "Brickstead Dairy is an inspirational example of how smart environmental practices can work hand in hand with smart business practices."
The Lower Fox River Farm Demonstration Network also received Certificates of Appreciation from NEW Water and the Green Bay Water Utility World Water Day. Mike Mushinski, Director of the Brown County Land & Water Conservation Department, praised Brickstead Dairy for their leadership as a partner in the Network. Certificates of Appreciation also were announced for the staffs of Outagamie County, and the United States Department of Agriculture's Natural Resources Conservation Service for their work on the Farm Demonstration Network.
Brickstead Dairy Farms is a sixth-generation, 700-dairy cow operation and has been in continuous operation since the mid-1800s. Learn more at www.bricksteaddairy.com.
To learn more about NEW Water, please visit: www.newwater.us.
To learn more about the Green Bay Water Utility, please visit: www.gbwater.org
Photo Top: Tom Sigmund (NEW Water Executive Director); Nancy Quirk (Green Bay Water Utility Manager), Dan, Melanie, Sawyer, Ian, & Elijah Brick (NEW Water Champion Family); Brent Petersen (Brown County Demonstration Farm Project Manager, CCA); Mike Mushinski (County Conservationist)