Our History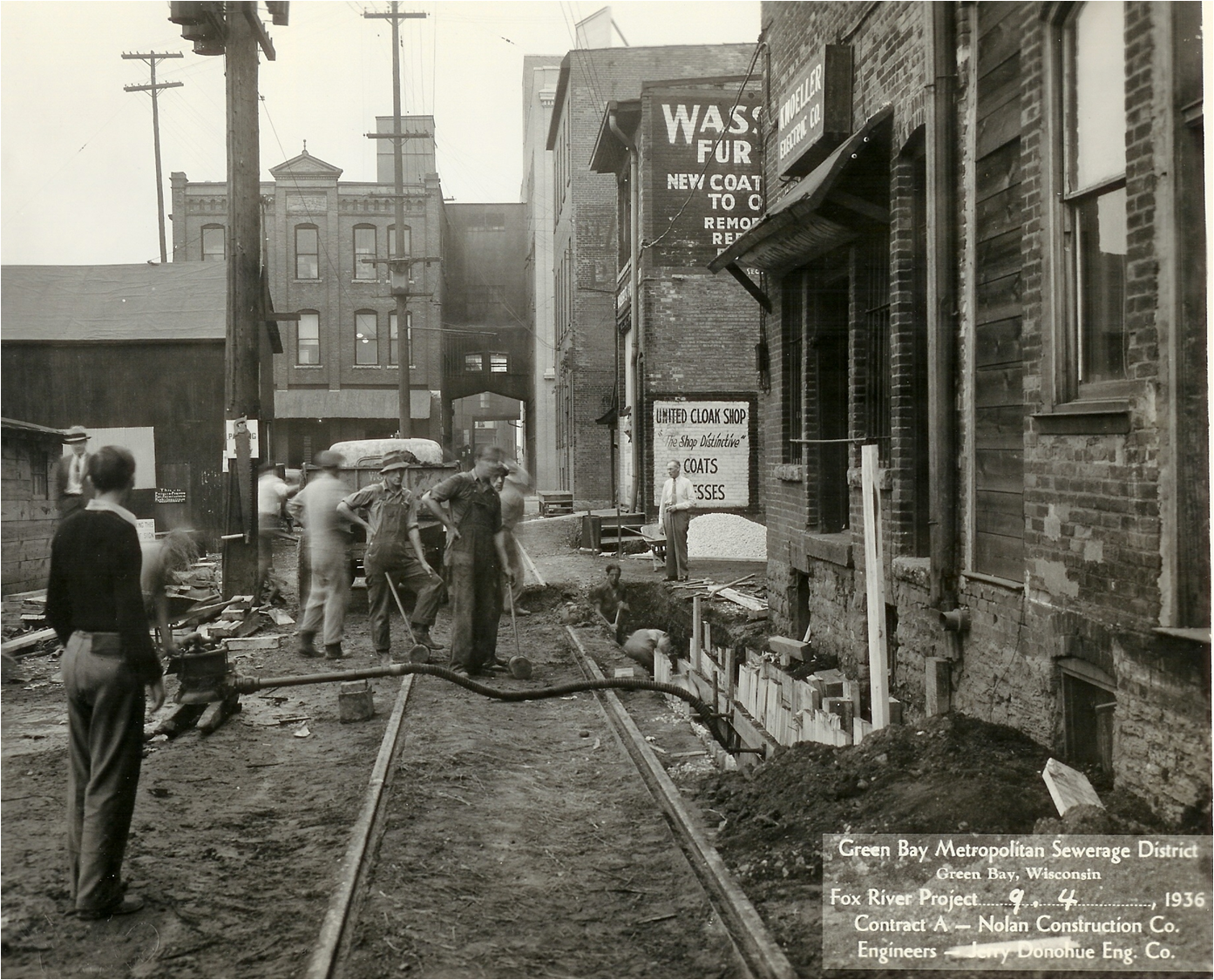 1930s
NEW Water, the brand of the Green Bay Metropolitan Sewerage District (GBMSD), was formed December 4, 1931, with the first treatment plant beginning operation early in 1935. The condition of the river water was bad enough that, even in the Depression of the 1930s, people were concerned enough to raise the $1.8 million needed to construct the plant.
The first facility, with a capacity of 10 million gallons per day (MGD), included two primary clarifiers and chlorination for treatment of the wastewater. Treatment at that time averaged 2.5 MGD. This was better than no treatment at all, but it soon became evident that it also wasn't enough.
Picture: Installation of sewer pipes downtown Green Bay, 1936.
---
1950s
Area growth and a desire for improved water conditions led to several plant expansions from 1935 through the 1950s.In 1955, a secondary treatment system, using tricking filters, was installed to biologically treat the water and remove wastes more extensively. The design capacity of the plant at this time was 22 MGD, though treatment averaged about half that initially.
Also, during the middle 1950s, work began on the separation of storm and sanitary sewers. That way, storm water wouldn't be filling up the system, and treatment could focus on the more concentrated wastes.
---

1970s
In the early 1970s, federal clean water regulations mandated tougher water quality guidelines.
NEW Water, in anticipation of stricter regulations, began in the late 1960s by conducting intense research on the feasibility of treating domestic sewage and pulp mill discharge.
This effort culminated in a $72 million expansion project, which utilized activated sludge in its secondary treatment process. Not only was this process more effective at removing waste from the water, but also allowed NEW Water to be the first plant in the nation to simultaneously treat municipal and pulp mill wastewater, setting a precedent in the fight against water pollution. With the planning stages beginning as early as 1963, the plant was completed in 1975 and had a capacity of 52 MGD.
Picture: Aerial view of the Green Bay Facility.
---
1990s
Based upon more stringent effluent standards, NEW Water's 1990s expansion took another large stride toward cleaner water. With the addition of two aeration basins, two clarifiers and an improved solids handling system, the plant greatly improved its ammonia removal efficiency. Additional facilities provided for de-chlorination of the effluent (treated water leaving the plant).The capacity of the plant dropped just a bit to 49 MGD. Even though additional basins were added to the facility, the process was changed and treatment required a greater detention time. This greater detention time allows for more efficient removal. Allowances were made in the design to facilitate future expansions as growth and regulations demand.
---

2000s
On January 1, 2008, NEW Water acquired the De Pere Wastewater Treatment Plant, major interceptors, and annexed the City of De Pere as a municipal customer. The De Pere Facility effectively treats 9 MGD. The De Pere and Green Bay Facilities underwent major construction and are linked by interplant pipelines so staff can better manage solids, optimize wastewater flow conditions, and operate the De Pere Facility remotely through fiber optics. The solids generated at the De Pere Facility are piped to the Green Bay Facility for processing. The incinerator at the De Pere Facility is no longer in operation.
Picture: Night view of the primary clarifiers.
---

2010s
NEW Water is facing stricter environmental standards, aging infrastructure, and solids waste capacity issues. To combat these issues, NEW Water developed a Solids Management Plan.
NEW Water and consultants developed a solids management plan for the future. It is a Resource Recovery and Electrical Energy Generation System, also known as the R2E2 Project.
The project involves building two anaerobic digesters, which break down biodegradable material in the absence of oxygen, and reduces the volume of material to be processed. In addition, the digesters will produce a methane gas, which will be captured and processed into a biofuel, used to produce electricity.
NEW Water will also recover the heat from a new incinerator, which will replace its two existing 35-year-old incinerators. Through thermal processing, the heat from the system will be recovered and used for building heat or electricity production. The new equipment will be more efficient, effective, and meet new, stricter environmental air permit standards. R2E2 construction launched in 2015, and the Project is slated to go online in 2018.
NEW Water added an Environmental Programs Division. To division is tasked with meeting one of the biggest challenges facing the clean water treatment industry today: phosphorus. Though phosphorus is a naturally occurring element in nature, in excess it can lead to oxygen-depleted bodies of water, known as a "Dead Zone."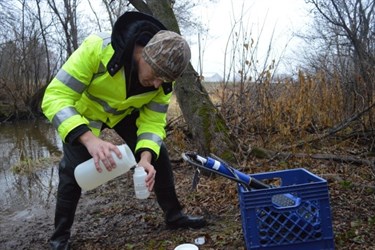 With upcoming new phosphorus rules, NEW Water is trying lowest possible cost. Wastewater treatment facilities built decades ago - including NEW Water - are not designed to accommodate such low levels of phosphorous treatment. NEW Water would need to build a new facility at an approximate cost of $220 million, which would remove less than 1% of the phosphorus discharged into the Bay.
In lieu of that, NEW Water is pursuing other avenues to phosphorus reduction, including Adaptive Management, a voluntary compliance option for point source facilities. This approach includes: forging new partnerships, educational outreach, as well as financial incentives. Toward this end, NEW Water launched a pilot project in collaboration with others, in the Silver Creek watershed, in efforts to improve water quality, and meet new regulatory requirements.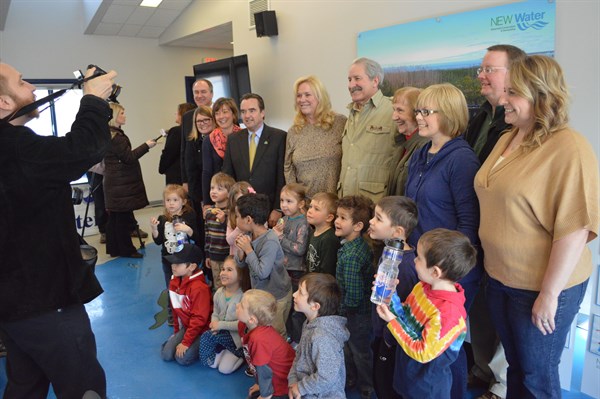 To guide efforts in resource recovery and community collaboration, GBMSD went through a rebranding process, in search of a new brand identify that would better tell the story of the organization. The new brand is "NEW Water," with NEW referring both to Northeast Wisconsin, and "new," as in a newly created product, which is what the organization composes and distributes into the Fox River and Green Bay each day.
In 2019, NEW Water created a Strategic Plan, to document and communicate the strategic direction for the community of internal and external stakeholders. Through this process. NEW Water developed a vision statement, and revised its mission statement.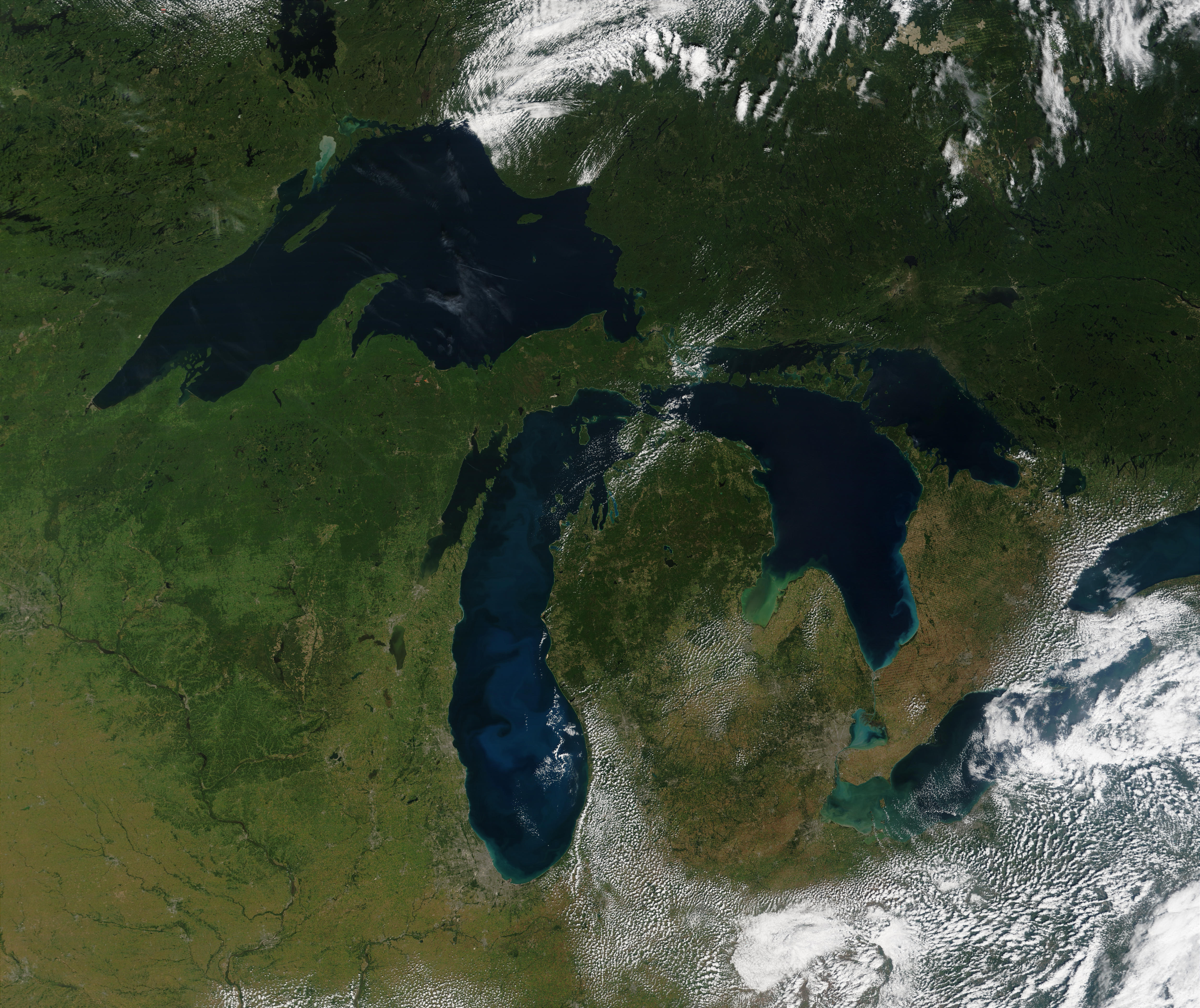 Vision: Protecting our most valuable resource, water.
Mission: Water resource utility serving Northeast Wisconsin through pollution prevention, operational innovation, and community outreach.
Present Day / Future: NEW Water has begun its journey to becoming a utility of the future, one that views what is sent to the facility as a resource to be recovered, rather than a waste to be disposed of; and one that serves as a community partner, and leader. On the horizon, NEW Water looks forward to continuing to protect its most valuable resource, water.
Pictures above: 3D rendition of R2E2's anaerobic digesters. R2E2 construction was in full swing in 2017. Watch the video "Logo's On & Lid's Up!". Water monitoring for the Silver Creek Project. Community collaboration and educational outreach are key components of NEW Water's Strategic plan. Here, NEW Water celebrates World Water Day with community partners. The Great Lakes as seen from space. Green Bay is part of this greater watershed, which represents 20% of the world's surface freshwater. NEW Water is proud to be doing our part in protecting our most valuable resource, water.